Celebrate with 25 free resources for practitioners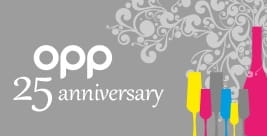 Few things in life are free – but OPP has some really cool free resources to support you in your work! To help celebrate our 25 years in the business, we've taken a trawl through the various goodies available for zero outlay on our website. They range from white papers and feedback materials to fun quick guides and infographics – many of which can also be found on our practitioner downloads page.
Here, then, are 25 of the best.
Get ahead with the MBTI – 'type head' and 'stress head' graphics for each of the 16 MBTI types
Keep calm – dip into our colourful quick guide to stress and resilience
Feel the power – get a snapshot of all that's good about the MBTI process with our MBTI infographic
Mind the generation gap! UK national personality survey 16PF poster presentation
Personality on the hoof – PersonaBubble app, free and ready to download

California dreaming –

the

CPI 260 (California Psychological Inventory) datasheet is just one of a series of product datasheets that you can customise with your own company contact details if desired (there's one for each OPP tool)

Cheers! Our hugely

popular

MBTI type table

reflects your personality as a beverage

View from the top – all you need to know about great management in our leadership white paper
Positive feedback – dip into our series of MBTI feedback videos on the OPP YouTube pages, including this one looking at the Thinking/Feeling dichotomy
Make it pay – poster presentation looking at how organisations can optimise ROI for training
Read all about it! Our monthly OPPinions newsletter keeps you abreast of the latest OPP news and offers
For the select few – our 'top tips' selection and recruitment quick guide
Sorry to burst your bubble – MBTI coaching exercise to help you demonstrate how internal thinking and external expression may differ
"You didn't hire me because of my Facebook profile?" – Powerpoint slide presentation on the ups and downs of social media networking
Two for the price of one – we have several 'Use-with' guides to download, including this one describing how to combine MBTI and TKI insights in your training session
Letting the Cattell out of the bag – in-depth guide to coaching with the 16PF; there's a separate one for the MBTI framework too
Conflicting views – OPP's tension-defusing white paper on conflict management in the workplace
How to break the ice – handy 'ice-breaker' cards for use in FIRO sessions
All change! Useful MBTI workshop exercise for sessions involving teams undergoing change
The brains behind the business – neuroscience and personality webinar by Dario Nardi, one of many on offer on our webcasts page
Something to pin your hopes on – ever-growing resource of MBTI and related material on the OPP Pinterest boards
Communication breakdown? Not with our white paper "You say one thing but they hear another"
Culture shock - Powerpoint slide presentation

based on one of our many conference papers, looking at cross-cultural business personality issues
Picture this – great stress management infographic
You're welcome! Short video for new OPP-trained practitioners