FIRO & Teams Training
FIRO® & Teams Training
Apply FIRO insights to team development
A practical and applied workshop underpinned by your FIRO knowledge. This course will provide you with models, exercises and resources to help you run impactful team workshops with the FIRO assessment.

This experiential online or in person workshop is ideally suited to people who want to facilitate team development with the FIRO assessment. It looks at how to present and analyse FIRO team data, reveals how to use the FIRO assessment in team development, and takes you through a series of exercises that you can use with teams. It also shows the links between FIRO's core interpersonal needs and the five stages of team development as established by Tuckman's model.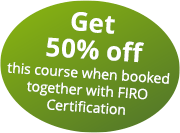 1 day live virtual or in person training.
Attend this workshop immediately after the 2-day FIRO certification programme or as a stand-alone event at a later date.

(Equivalent to 6 CPD hours)
To analyse and present a team's FIRO assessment data

To identify potential conflicts within a team based on interpersonal needs

Exercises that teams can use to explore core interpersonal needs

The links between the FIRO tool and Tuckman's team development model

The different team roles people adopt depending on their interpersonal needs

Different ways to deliver FIRO team events virtually and in person, with hints and tips for different

delivery mechanisms and exercises



The workshop exceeded my expectations. Having just completed the qualifying programme, this extra day has given me so much more in terms of both knowledge and resources and will give me much more flexibility and confidence in how I decide to deliver FIRO within my organisation.
Mrs Gill Glenn, Learning and Development Manager. Northamptonshire Healthcare NHS FT
This interactive virtual or in person workshop includes presentations, case studies, interactive group work, breakout sessions and practical exercises. You'll use your own FIRO profile to participate in exercises with others on the programme, giving you first-hand experience for using them in your own team development events.
Whether you choose our virtual or in person programme, our workshops are designed to accommodate different learning styles and involve reflection, different types of interaction and self-study with regular breaks to help manage your concentration.
Learn how to use the FIRO instrument to analyse the culture and interpersonal dynamics of teams

Identify how an individual's FIRO profile impacts team performance

See how to explore a team's potential conflicts based on FIRO data

Take away exercises that you can use in-person and virtually in your work with teams

Deepen your understanding of the FIRO framework



FIRO qualified practitioners
Team leaders
HR managers
Organisational development specialists
Join a public programme – see scheduled dates in the calendar below and book online.
Hold an in-house training programme - can't find a date in our public schedule that works for you, or want to train several people from your organisation at the same time? Consider in-house training.
Filter by date:
Select courses starting between
Filter by location:
Calendar
Select courses starting between