In-house courses
Make your budget go further – train in-house
Can't find a date in our public schedule that works for you? Or want to train several people within your organisation at the same time? Here are 3 great reasons why clients chose in-house training programmes...
Value for money
Scheduling to suit
Focused learning

Save up to 30% course costs

A client in the education sector saved nearly £3,000 when their team of career consultants became MBTI qualified through an inhouse event.

Choose dates that work for you

Staff at a leading automotive company became MBTI qualified in just one week with an intensive programme that focused their learning and reduced costs.

Discuss challenges

A finance sector client runs in-house training so their practitioners can safely discuss how to apply learning to current organisational challenges.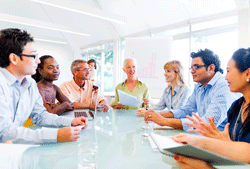 Additional training dates at client locations
Join a client-hosted programme for the same high-quality The Myers-Briggs Company training experience at a location closer to you.
Many of our in-house training clients are happy to accommodate other participants on their programmes, these are called client-hosted programmes. So, if you can't see a date you can make in our public training calendar and don't have enough participants to run your own in-house programme, why not join one of our upcoming client-hosted programmes?
Check out our in-house v public course comparison
| MBTI Step I Foundation Programme – for 12 participants | In-house workshop | Public workshop |
| --- | --- | --- |
| Programme fee for 12 participants | £29,552 | £35,820 |
| Travel costs: 12 x £50 | n/a | £600 |
| Subsistence: 12 x 4 nights at £25 | n/a | £1,200 |
| Accommodation costs: 12 x 4 nights at £100 | n/a | £4,800 |
| Trainer expenses | variable | n/a |
| Total cost of in-house MBTI training for 12 delegates | £29,552 | £42,420 |
| OVERALL BUSINESS IMPACT | SAVING OF £12,868 | |
Remember, don't worry if you don't have enough participants to fill your own in-house course – if you have a suitable venue, and don't need a confidential environment, talk to us about running a client-hosted programme.
Call +44 (0)1865 404682 to discuss your training requirements, book on to a client-hosted course or fill in the enquiry form below.