Team development
Corporate team building
Boost team performance to accelerate results
Teams are the building blocks that hold your organisation together. High performing teams deliver positive business impact and operational efficiencies, avoiding waste and missed opportunities. But even the best teams need help to maintain their effectiveness over time – particularly in times of change.
Some teams want to improve on existing good results; others need help to address or prevent poor performance. Whatever team you're working with, The Myers-Briggs Company's team development inspires people to work better together, driving organisational success. Our tools and insights rest on unique perspectives on what makes people tick, providing quick and resonant ways to analyse team dynamics, and strategies for boosting team performance.
Our range of industry-leading personality assessments enables you to transform team performance quickly. Our team development tools and events improve relationships and communication within teams, so you get the best out of your people.
Better team performance and results
More effective use of time and resources
Motivated teams who know they impact business results
Superior decision-making
Improved team dynamics and communication
Reduced conflict, improved morale
You can be confident that The Myers-Briggs Company will help you deliver professional and insightful team development. With over 20 years' experience helping organisations enhance team performance, our clients include organisations as diverse as the NHS, the RAF and Diageo. These and others have benefitted from team coaching events, exercises and activities that have a lasting impact on organisations.
It is easier to manage having had this insight. Trust has improved considerably across the team and each member is empowered to bring his unique styles into the management of the company. The team is able to get to the core of problems much more effectively and efficiently with a collective ownership of the final solution.
Jes Damsted, CEO. Forca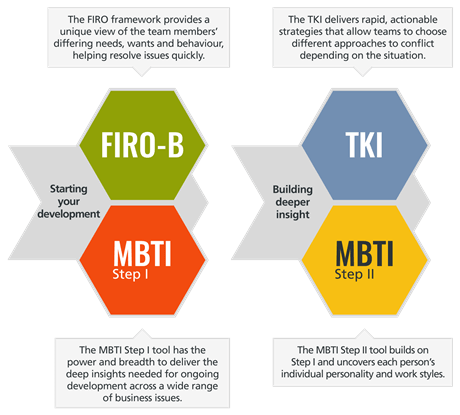 The MBTI® Step I Team Report provides the ideal starting point for teams that want to get to know each other to improve their productivity. It is perfect for teams that anticipate ongoing development for a wide range of business issues.
The FIRO® tool helps you get to the bottom of interpersonal relationship differences that can prevent a team from performing optimally.