Type and Retention eBook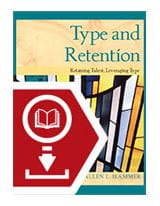 MB6179e
Type and Retention - eBook
How to motivate and retain talented employees
This bookelt can help you increase retention of talented and valued employees in your organisation by individualizing your retention efforts through the use of type. The eBook format is ideal for working in virtual situations, delivering a pdf direct to clients.
Studies show that motivation and job satisfaction are directly linked. Yet, different employees are motivated by different tasks, values,and organisational cultures and respond to different kinds of rewards and incentives. Understanding these differences can help to improve your chances of retaining your employees and finding the best fit between an individual and an organisation.
Designed for organisations, this guide shows how to match individual types to appropriately effective retention efforts for each of the 16 MBTI® personality types. An ideal piece for HR professionals, managers, executive coaches, and all others in training and development dealing with retention issues in organisations. 
Related products
Apply MBTI insights to other common challenge areas.