MBTI Concepts for Managers: A Step I Type Training Workshop for Managing and Mentoring Others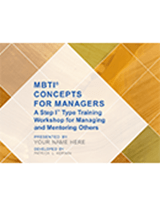 MB6380
MBTI® Concepts for Managers: A Step I Type Training Workshop for Managing and Mentoring Others
Help managers apply MBTI insights to become more effective in their role
This ready-to-deploy workshop facilitation kit provides everything you need to help managers at all levels increase their effectiveness in their role.
Workshop participants will become more familiar with the Myers-Briggs® framework and learn techniques for using MBTI preferences in managing and mentoring others. As part of the training, they will practice flexing their type style and discover how to recognise and apply "type cues" observed in others.
FACILITATION KIT CONTENTS
Microsoft PowerPoint presentation designed for a 3-hour workshop consisting of lecture and activities
Facilitator notes
Facilitator worksheets
Workshop participant worksheets and handouts
KEY FEATURES
Workshop-ready
Comprehensive, with engaging visuals, the kit is designed for immediate use as is, or for incorporating into an existing training program - helping you save workshop preparation time.
Comes with expert guidance
Created for both seasoned and newly certified practitioners, the kit includes facilitator notes with presentation instructions and recommended script, as well as worksheets specifically for the facilitator, providing valuable context and support to ensure an effective training. 
All digital content
No heavy binders to lug around - all materials are conveniently loaded on a USB flash drive. 
Please note: Workshop participants will need to know their four-letter best-fit type before they attend the workshop.
Related products
Looking to develop people skills around communication, change, influencing, conflict, leadership and more?