MBTI and FIRO Leadership Report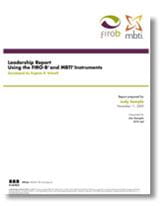 Available in (click for sample)
OP0138
MBTI® & FIRO-B® Leadership Report
Linking MBTI preferences and FIRO behaviours to influence leadership development
Based on responses from both the FIRO-B and the MBTI instruments, this report provides leaders with an opportunity to look at both their preferences and their behaviours side by side, providing opportunity for discussion about similarities, possible inconsistencies and contradictions.
This is a comprehensive report to use with leaders who are exploring their leadership and communication style, and an effective solution when either MBTI or FIRO are insufficient in isolation. Both the FIRO and MBTI instruments tap into key aspects of personality and behaviour in areas such as communication, problem-solving, decision-making, and interpersonal relations. Together, the two tools complement each other and provide rich information to use within a personal, ongoing leadership development programme.
The MBTI and FIRO-B Leadership Report contains
Basic interpretations of the respondent's FIRO-B and MBTI Step I results
An assessment of the respondent's interpersonal relations, including how they work with groups and other leaders
An analysis of how a leader engages with and influences their organisational culture
An evaluation of how the leader deals with change and stress
A suggested action plan for ongoing leadership development
When to use the MBTI and FIRO-B Leadership Report
Leadership development
Effective management
Accessing the MBTI and FIRO-B Leadership Report
The MBTI and FIRO-B Leadership Report is based on FIRO-B results and MBTI Step I best fit result.
MBTI best fit result will be required. This can be generated from completed MBTI Step I or Step II questionnaires and feedback. (Using the MBTI Step II questionnaire provides the opportunity to continue along the MBTI Development Journey with Step II, without having to complete an additional questionnaire)
FIRO-B results can be generated from completed FIRO questionnaires
The report can be ordered in English through OPPassessment by qualified MBTI and FIRO practitioners.
New to OPPassessment? Find out how to register.