Type® and Career Development eBook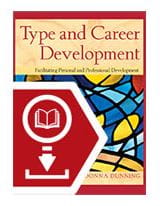 MB6195e
Type and Career Development - eBook
Applying personality type theory to career development
Bring type insights to your MBTI® and career development sessions. The eBook format is ideal for working in virtual situations, delivering a pdf direct to clients.
Why it's useful
Using this guide, you will use your MBTI know-how to help others manage and capitalise on their career and lifestyle choices. It outlines the processes and actions needed when applying MBTI type theory to career development.
Who it's for
The guide is designed for qualified MBTI professionals – career counsellors, HR professionals, coaches, managers, and anyone else facilitating career development discussions.
How to use it
The eBook can be applied to the various steps of career development, and to other developmental situations in which a client is solving a problem, assessing a relationship or looking to change patterns of behaviour. Following the steps outlined in the guide, you will be equipped to help clients gain insight into their own developmental needs, pinpoint aspects of work that they find stressful or uninteresting, find a job match and take real action to achieve their goals.
What's inside
The guide walks users through the steps of the career development process – setting the stage, self-assessment, generating and researching options, making decisions and taking action
It assists practitioners in customising their coaching style to meet the needs of their clients, enhancing client insights and furthering the practitioner's professional development by building awareness of blind spots in their work
Related products
Apply MBTI insights to other common challenge areas.