Business Applications Posters for use with the MBTI Step II instrument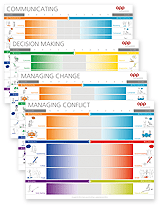 JT1504
Business Applications Posters (pack of 4)
For use with the MBTI® Step II instrument
Posters for MBTI Step II practitioners facilitating team development sessions
This set of flip-chart sized posters can be used to understand a team's profile in the context of four applications for Step II:
Communication
Decision making
Managing change
Managing conflict
These resources are great for team events, training to raise group awareness and work to develop teams in relation to a number of common business issues.
Team development in the four areas can be linked directly back to each individual team member's Step II profile. More information on these application areas can be found in the MBTI Step II Interpretative Report.
The posters are colour coded to tie in with other Type resources, supporting a continuing Development Journey and providing a platform for integrated discussions about team development.
These posters and Facet Posters are designed for use with the MBTI Step II Interpretive Report.
Dimensions : 583mm x 756mm.