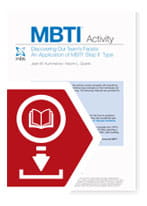 MB7016e
Discovering Our Team's Facets exercise eBook
MBTI® Activity Series exercise: discovering your team's facets
This MBTI Step II group exercise is designed to teach the meaning of the facets and facet poles, to apply the facets to understanding team members, and to identify both similarities and differences among team members.
MBTI Activity Series exercise - eBook.
NB This exercise assumes that you have previously introduced Step II concepts and facets, and that participants have received and reviewed their Step II results (using the MBTI Step II Interpretive Report).
Applications: team culture, team development
Type preferences studied: MBTI Step II facets 
Time required: 75-180 minutes