Type and Culture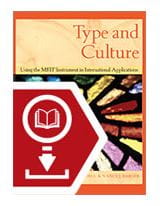 MB6128e
Type and Culture eBook
Improve your practitioner skills when working internationally
Get hints and tips for using MBTI type in cross-cultural teams and groups. The eBook format is ideal for working in virtual situations, delivering a pdf direct to clients.
Why it's useful
Within today's globalised economy and diverse workforce, being able to successfully deliver development in a cross-cultural context is becoming an increasing imperative. Yet L&D practitioners working with multicultural teams are faced with a whole range of additional traps and challenges: people differ in the authority they invest in a trainer and in how comfortable they are stating a definite preference; and they may react differently to the very notion of individual differences. This eBook helps by providing the practical advice and theoretical background that practitioners need to feel confident working in an international setting.
Who it's for
This eBook is aimed at qualified MBTI practitioners who work with individuals from multiple different cultures. The ideas it contains will be particularly relevant when the MBTI framework is being used within a large multinational organisation: either as a guide to some basic principles to follow when operating in this type of context, or as the basis for workshops that specifically address the conflicts and confusions that could arise from international working. It is also useful for practitioners carrying out development work in a country or culture that is not their own, or for one-to-one coaching in a cross-cultural environment.
How to use it
The central notion of this eBook is that type is universal, but that culture colours how it appears and how it is expressed. If type is a person's 'hardware', culture acts as the 'software' – shaping our experience of a person, but not their internal mechanisms. With this in mind, practitioners can use this resource to understand where behavioural differences are driven by type, and where they are driven by culture, helping them to interpret more accurately what is driving the people they work with. Practitioners can also use this resource to consider how to plan and carry out personal development within different cultures in a way that meets the expectations of their participants.
What's inside?
The guide gives a solid background to two widely accepted approaches to cultural difference: GLOBE/Hofstede's Dimensions of Culture and Trompenaars' Seven Factors of Culture, both of which outline broad differences such as collectivism, control and egalitarianism. It goes on to relate these theories to each of the MBTI preference pairs.
The book's most practical section gives an invaluable analysis of how type preferences are expressed differently in different cultures, and how culture affects the development of type. This includes cautionary examples of possible misinterpretations that can happen when a practitioner unwittingly uses the lens of their own culture to understand behaviour in another. 
There are two highly insightful sections looking at how a practitioner might adapt their facilitation style to match the expectations of different cultures, based on the wide international experience of the authors. This is complemented by detailed data on type distribution in different countries, such as India, Korea, Japan, Italy, the Netherlands, and many more.
Related products
Apply MBTI insights to other common challenge areas.