Introduction to the FIRO-B instrument in Organisations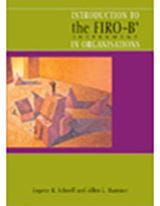 FI0036
Introduction to the FIRO-B® Instrument in Organisations - 10 pack
A guide to interpersonal behaviour in the workplace.
This 25-page booklet focuses on the impact of behaviour, specifically within the workplace. It explains individual tendencies in team situations and projects, leader and subordinate roles, supervision and delegation, and conflict and communication. It provides tips to help an individual manage their behaviour, recognise stagnation and conflict and increase their performance through a heightened self-awareness and understanding of others at work.
How is this booklet different to Introduction to the FIRO-B Instrument?
Introduction to the FIRO-B Instrument (FI0181) focuses on the interpretation of an individual's results, and is aimed at individuals participating in a feedback session or a team development exercise for the first time. The basic FIRO-B concepts are explained in a simple and clear way, and the book includes a personalised page for each different score combination.
In contrast, Introduction to the FIRO-B Instrument in Organisations provides a more in-depth analysis of the FIRO-B concepts as they apply specifically to an organisational context. It gives practical tips for using the tool in everyday working environments.
Authors: Eugene R. Schnell and Allen L. Hammer