Introduction to the FIRO-B instrument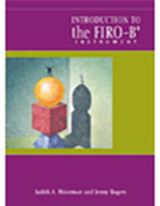 FI0181
Introduction to the FIRO-B® Instrument - 10 pack
An essential resource to complement FIRO feedback
This 38-page booklet is useful for individuals who are participating in a FIRO development workshop or taking the FIRO questionnaire for the first time, and are interested in further detail about FIRO following their development experience.
It provides a brief overview of the history behind FIRO, recaps the impact behaviours can have in relationships and discusses methods by which an individual can proactively manage their relationships. The majority of the booklet explores the 27 combinations of FIRO scoring.
How is this booklet different to Introduction to the FIRO-B in Organisations?
Introduction to the FIRO-B Instrument (FI0181) focuses on the interpretation of an individual's results, and is aimed at individuals participating in a feedback session or a team development exercise for the first time. The basic FIRO-B concepts are explained in a simple and clear way, and the book includes a personalised page for each different score combination.
In contrast, Introduction to the FIRO-B Instrument in Organisations (FI0036) provides a in-depth analysis of the FIRO-B concepts as they apply specifically to an organisational context. It gives practical tips for using the tool in everyday working environments.
Authors: Judith A. Waterman and Jenny Rogers