Leadership - 10 New Year's resolutions
Posted 04 January 2013 by
OPP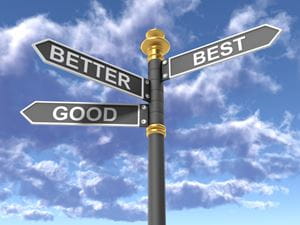 Over the last three months we've been blogging on the theme of leadership development. In the interests of keeping management in good shape at the beginning of the New Year, here's a quick recap – 10 ways to maintain a good balance of resolve and expertise in 2013. Lead on!
1. Don't rest on your laurels – seek ongoing training and development
Development shouldn't stop with promotion. Consider leadership development training, and check out the potential benefits of business simulations.
2. Be a champion of authenticity
At the core of great leadership is the concept of authenticity. Being an authentic leader is about being true to yourself and your values, rather than presenting a façade that you believe is required or accepted.
3. Create a corporate atmosphere that fosters resilience
It's possible to achieve high performance without the stress. Many high-flying individuals (Presidents, for example) not only survive but thrive in jobs that have textbook 'stress' written all over them. The key is about fostering resilience.
4. Remember that all people are different, even those with the same type
MBTI Step II gets to grips with the all-important personality differences you find amongst management or staff who share the same four-letter type. It's a great tool for leadership development, revealing the complexities behind the MBTI assessment.
5. Avoid the 'bad boss' label by developing self-awareness and awareness of others
If underachieving bosses are to be the paragons of virtue and excellence that we would all like them to be, they need support and guidance in how to achieve and maintain excellence – and not an accusing 'bad boss' label.
6. Don't let conflict amongst leaders trickle down into the organisational culture
Self-awareness and empathy can prevent disaster when leaders clash with each other. Self-aware leaders can act as 'props' supporting an organisation when it is threatened by destructive tremors.
7. Think twice, and then think again, if considering using psychometric tools in redundancy
It is almost a rule of thumb that psychometric tools should not be used in redundancy decisions, although certain restricted scenarios sometimes justify the use of such methods.
8. Reflect on leadership performance objectively
This is one of the keys to leadership success. For leaders who forego the opportunity to reflect, it may be difficult to see when and how they started to become less effective in their roles.
9. Recognise that whilst a leader may think they're doing a great job, their employees might not agree
It may require a lot of work from both sides to solve this problem, but it is worth the effort. Employees are usually quick to see the failings of their managers, but there are ways of closing the perception gap.
10. Be aware of the stress process, and work with it
Instruments such as the MBTI give unique insight into minimising, handling and learning from stress. Take it on board!