Managing Conflict Using the TKI® Assessment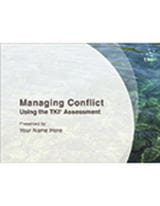 TK4350
Managing conflict using the TKI® assessment
Deliver consistent, high-quality conflict management training with this ready-to-deploy TKI workshop
This ready-to-deploy workshop facilitation kit provides everything you need to deliver a comprehensive introduction to conflict management to any audience.
Participants will learn to appreciate their own and others' approach to conflict and develop skills for assessing conflict situations and selecting appropriate strategies to handle them. They'll practice using different conflict-handling modes and create an action plan for developing more effective conflict resolution skills.
FACILITATION KIT CONTENTS
Microsoft PowerPoint presentations for full-day and half-day sessions consisting of lecture and activities
Facilitator notes for face-to-face and virtual delivery, with suggested script for full-day and half-day sessions
Facilitator tools
Workshop participant worksheets and handouts
KEY FEATURES
Workshop-ready
The kit is designed for immediate use as is, or for incorporating into an existing classroom or online training program - saving you workshop preparation time. This workshop can be conducted as a full-day or half-day session with existing work teams or with groups of participants who do not work together.
Comes with expert guidance
Created for both seasoned and new TKI practitioners, the kit includes in-person and virtual facilitator notes with presentation instructions and recommended script, providing valuable context and support to ensure an effective training. 
All digital content
No need to lug around heavy binders - all materials are contained on a USB flash drive for your convenience. 
Buy once, use forever
This cost-effective training solution will quickly deliver a positive ROI. You receive full rights to use the materials indefinitely with the people and organisations you work with.
REQUIRED SUPPORT MATERIALS
You will need to purchase a TKI assessment administration for each participant.
OPTIONAL SUPPORT MATERIALS
Recommended additional resources for participants include the Introduction to Conflict Management booklet and Introduction to Conflict and Teams booklet.
Related products
Looking to develop people skills around communication, change, influencing, conflict, leadership and more?