Where Do I Go Next?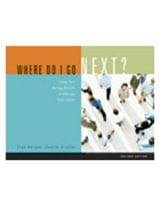 ST8432
Where Do I Go Next?
Using your Strong® results to manage your career
This interpretive booklet (revised edition) enables clients to work through their results on the revised Strong to better understand their career interests, and provides expanded information to help explain their results on the GOTs and Basic Interest Scales.
The booklet also supplies descriptions of the Personal Style Scales, with lists of preferred interests, skills, abilities, work tasks, and occupations to target the best career for your client.