Introduction to Type and Emotional Intelligence (English) - eBook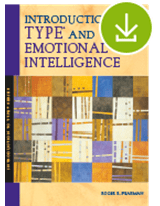 MB6169e
Introduction to Type and Emotional Intelligence - eBook
Develop your Emotional Intelligence and extend your influence
This booklet looks at type in relation to an emotional intelligence framework. The eBook format is ideal for working in virtual situations, delivering a pdf direct to clients.
Why it's useful
Developing emotional intelligence (EQ) can enhance leadership ability, enrich relationships, extend influence, and expand resources that can be called upon to manage life's mental demands. An expanded emotional intelligence and a balanced personality can lead to greater overall satisfaction and performance in the workplace. This booklet explores the connections between personality and EQ, and provides specific actions for EQ development for each of the 16 MBTI® types.
Who it's for
Introduction to Type and Emotional Intelligence is for trainers and practitioners working with individuals to develop EQ through insights into psychological type.
What's inside
A look at the interpersonal and intrapersonal competencies that constitute EQ
Overview of psychological type theory
How type links to EQ
An exploration of EQ and personal development
Related products
Apply MBTI insights to other common challenge areas.