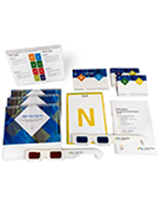 JT0903
Group Feedback Kit
Introduce preferences and run short exercise
The Group Feedback Kit sets you up with the tools you need to introduce preferences via a series of fun exercises that will stimulate all types of learners. Each kit contains materials for to support four participants in the classroom and four flip a type tip learning aids to help them apply what has been learned every day at work.
The Group Feedback Kit has been carefully designed to:
Stimulate all types of learners through seeing, listening and doing
Keep Introverts and Extraverts energised throughout the process via solo, paired and larger group activities
Give every participant an experience of BOTH poles of each preference pair
Your Group Feedback Kit contains
Instructions on how to run a group feedback session
Talk topic cards for E–I exercise x 1 set
Red glasses x 4
Blue glasses x 4
Cards for S–N exercise x 2 sets
Scratchcards x 2 sets
Note: You will also need to provide the following:
E–I Exercise – counters x 20
J–P Exercise – modelling clay
Googly eyes (optional)
Complementary products: Exploring Your Myers-Briggs® Type Workbook, Introduction to Myers-Briggs Type
As of August 2018, the contents of the Group Feedback Kit have been streamlined and the packaging has been reduced. This is part of an ongoing effort to reduce our impact on the environment, which has been reflected in a new reduced price for customers. Practitioners will need to supply their own modelling clay to complete the J-P exercise, and will need to supply their own tokens/counters for the E–I exercise.