Enhancing Emotional Intelligence Through Myers-Briggs Type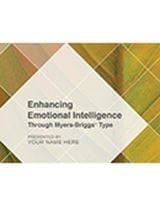 MB6410
Enhancing Emotional Intelligence Through Myers-Briggs® Type
Deliver consistently high-quality emotional intelligence training with this ready-to-deploy workshop
This ready-to-deliver workshop includes everything needed to present a half-day introduction to emotional intelligence
Studies have shown emotional intelligence to be the single most important factor in high job performance, with links to leadership, happiness, team performance, and problem solving. This 3.5-hour workshop enables participants to harness the power of Myers-Briggs type to perceive and respond to emotions more effectively. It helps them understand emotional intelligence and why it is important, identify its intrapersonal and interpersonal elements, and develop strategies for enhancing their own emotional intelligence. Created with flexibility in mind, the workshop is suitable for use with existing work teams or with groups of people who do not usually work together.
FACILITATION KIT CONTENTS
Microsoft PowerPoint presentation for a 3.5-hour workshop consisting of lecture and activities
Facilitator notes
Workshop participant worksheet and handouts
KEY FEATURES
Workshop ready
Comprehensive, with engaging visuals, the kit is designed for immediate use as is, or for incorporating into an existing training program - helping you save workshop preparation time.
Comes with expert guidance
Created for both seasoned and new MBTI practitioners, the kit includes facilitator's notes with presentation instructions, recommended script, and resources, providing valuable context and support to ensure an effective training.
All digital content
No need to lug around heavy binders - all materials are contained on a USB flash drive for your convenience. 
Buy once, use forever
This cost-effective training solution will quickly deliver a positive ROI. The purchaser receives full rights to use the materials indefinitely within an organisation (or across organisations if he or she is acting as a training consultant).
The workshop is designed for people who have already taken the MBTI® assessment and verified their best-fit type.
Please note: The content of this Facilitation Kit is largely drawn from our Enhancing Emotional Intelligence workshop, which is provided to participants attending the online training programme, How to deliver MBTI emotional intelligence events. If you have previously attended this training, you should not need to purchase this kit.
Related products
Looking to develop people skills around communication, change, influencing, conflict, leadership and more?