Coaching Cards: Tools and Techniques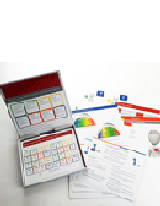 JT0732
Coaching Cards: Tools and Techniques NEW
Enrich your coaching discussions
This set of 36 cards enables practitioners to apply the MBTI® framework to a variety of coaching situations. Richly illustrated and incorporating our Core Characters, they are a versatile tool to facilitate engaging coaching discussions.
The cards are grouped into eight subsets listed below, each of which can be used over a variety of successive sessions driven by the needs of the coachee.  
General introduction—why and how to use the MBTI framework in coaching
Type distribution tables—exploration of under or over-representation of type
A model for coaching—adapted z-model for self awareness and understanding difference  
Drivers and filters—how motivators impact on how we see the world
Information on type—motivation, characteristics, learning style, blind spots and potential challenges when being coached
Understanding differences—enhance performance when working with people of different preference pairs
Type development—midlife transition and increased use of less developed functions 
Communication style—what each type extraverts and talks about, and what they are most likely to introvert and think about
The perfect next step to one-to-one feedback, these cards make it easy to tailor an impactful coaching programme around the needs of the client.
For more information on how to use these coaching cards, see the full instructions. 
These cards are included in the course fee of Coaching and MBTI®: tools and techniques where their application is explored in detail. 
Related product: Coaching Cards: Type Dynamics