Introduction to Personality Differences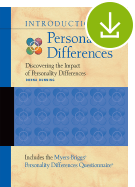 MB6249e
Introduction to Personality Differences - eBook
Introduction to Personality Differences provides an easy-to-understand lead-in to the concepts and advantages of personality differences. The eBook format is ideal for working in virtual situations, delivering a pdf direct to clients.
Introduction to Personality Differences was developed to meet the expressed needs of organizations with large numbers of employees. Because it is based on the MBTI instrument, this guide allows an easy and logical transition to Step I™ and Step II™ scoring methods and their many applications.
This jargon-free eBook contains the 30-item self-scoring Myers-Briggs® Personality Differences Questionnaire (PDQ) as well as steps for confirming the results. Clients learn about their preferred approaches to taking in and evaluating information, then explore personality differences in action and how their preferences influence their work, learning, communication, teamwork, and problem-solving styles.                                                                                
*View the technical brief on the newly developed Myers-Briggs® Personality Differences Questionnaire assessment