Introduction to Type and Decision Making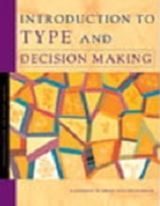 MB6186
Introduction to Type and Decision Making
Sharpen and improve decision-making skills
This booklet uses type to help your clients become better decision makers
Why it's useful
Honing and upgrading decision-making skills can make the difference between becoming an industry leader or an also-ran. This booklet uses type to help your clients become better decision makers, as it:
Describes how each preference influences decision-making style
Explores how the preferences relate to five core decision-making processes
Spotlights each type's decision-making strengths, challenges, and areas for development
Provides a concise overview of decision-making skills and strategies and practical developmental tips for each of the 16 MBTI® types.
Who it's for
Introduction to Type and Decision Making is for trainers and practitioners working with individuals to enhance business skills through effective decision making.
What's inside
Each MBTI type discussed in depth in relation to decision-making styles
A brief introduction to preferences and type dynamics
Understanding preferences and decision-making
Case studies offering examples of effective decision-making processes 
Tips on enhancing decision-making techniques
Tips on resources and further reading
Related products
Enhance your next decision-making training with these other resources