Top content summary from 2016
Posted 20 January 2017 by
John Hackston, Head of Thought Leadership, OPP
Last year we covered a lot in the OPP blog, from practical coaching tips and Type Dynamics made easy through to explaining the hidden depth of our fun Type tables. For this week's blog we're summarising the most popular posts for anyone who missed them.
The Core Characters of Type – Type Dynamics, communication and managing stress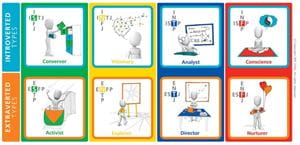 During the spring we shared the Core Characters of Type - a quick and easy way to provide added insight by using Type Dynamics. The series of blogs and the free PowerPoint slides for qualified MBTI practitioners explore how to use Core Characters to recognise and manage stress reactions as well as decode communication issues between MBTI Types.
The content was so popular we created the Type Dynamics made easy page and the Quick Guide to everyday stress and your personality. If you want to read the original articles you can click on the links below.
Icebreaker exercises
Following on from the popularity of the MBTI Icebreaker we released last year, we wanted to share two more with you – both of which appear in our top content list for 2016.
Kick off any group session with the Getting to know you icebreaker, or warm up the start of your FIRO session with a FIRO-specific icebreaker.
Type tables
With a summer of sport in 2016, including the Euros and Olympics, it's no surprise that the most popular Type Table was What is your Type of sport?, but other fun Type tables such as canine, tipple, bake and garden still remain as popular as ever.
Another popular blog article related to fun Type tables is this year has been there is more to fun Type Tables than meets the eye where we explain the hidden depth and thinking behind the fun Type tables.
MBTI Type and effective email
We conducted research about how different MBTI Types feel about and use email. As well as the Quick Guide to effective email and your personality, we also released two blog posts.
Using MBTI Type to get to grips with email – quickly provides top tips for anyone using email, while Using Type to 'get' email provides a top tips video summary for anyone aware of their MBTI Type.
Have your say
We hope to continue creating content you find useful and interesting, but it's not too late to tell us what you'd like to see in 2017 and beyond. Have your say in our practitioner survey.