Top five blog articles of 2013
Posted 17 January 2014 by
OPP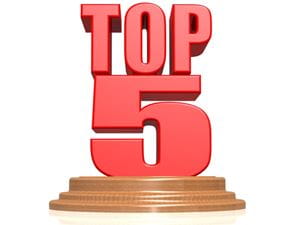 The blog has been increasing in popularity over the last year. We've celebrated 70 years of the MBTI system with posts on best practice, ethics and the diversity of applications; we've blogged about topical events such as the horsemeat scandal, the European elections and Andy Murray's Wimbledon win; and we've continued to thrive as thought leaders in a diverse range of workplace psychology issues, from stress to benchmarking to retention. But what are the top five posts that have kept readers coming back again and again?
1. The sporting elite: which personality characteristics contribute to sporting success?
With Andy Murray clinching victory in the Wimbledon final, the England cricket team winning the Ashes, Chris Froome becoming the second British winner of the Tour de France and Christine Ohuruogu scooping gold in the 400m at the World Athletics Championships, it was another great summer of British sporting success. Of course, physical prowess and natural sporting ability are essential ingredients for elite athletes, but here we consider which personality traits might make the difference between the good and the great in the sporting world. Read more
2. MBTI type and seasonal shopping – Christmas cheer or Christmas chore?
Some people leave their Christmas shopping until the last minute, while others have had everything sorted since the previous January sales. Some enjoy working through their Christmas lists amongst the buzz of high street shoppers, while others prefer facing the Christmas consumer blow-out online. We know a bit about how type relates to what you get out of Christmas, but to what extent can your Christmas shopping habits be predicted by the MBTI instrument? Read more
3. Type and culture: two pieces of the same puzzle
Joanne Weston is from the UK, and currently works as a freelance performance coach in Manila, Philippines. She tells us: "Several years back, an expat friend described how her husband's company, a global energy leader, brought an Australian psychology professor up to Manila to conduct an MBTI workshop for the senior management team, comprising both Filipinos and expats. When asked what effect culture has on personality, she curtly replied, 'None whatsoever!' Back then, I cringed. Today my reaction would be visceral." Read more
4. Infographic: MBTI and social media usage
Does your use of Facebook, Twitter, LinkedIn and other social media reflect your MBTI type? Who is most likely to use Facebook in their personal time vs their work time? And how does this compare to the most common type associated with LinkedIn users? This infographic gives you all the answers! Read more
5. A little MBTI knowledge can be a dangerous thing
If you're an MBTI practitioner, you will already know how powerful the Myers-Briggs approach can be. You may well have seen first hand how it can drive long-lasting development across the whole employee lifecycle. Penny Moyle, OPP CEO, says: "I know that I personally, along with millions of others, have benefited enormously from returning to MBTI concepts over many years, and finding new and valuable perspectives to help me tackle the different life challenges that I've encountered. So it saddens me whenever I hear of people who have had less positive MBTI experiences." Read more
Follow us on Facebook, Twitter, LinkedIn or Google+ to get news of our thought leadership and blogging before everyone else!