Using MBTI Type to get to grips with email – quickly
Posted 25 October 2016 by
John Hackston, Head of Research at OPP
We've talked a lot about email recently, but that's because it is important; in our recent research into email, 84% of respondents said that they could not do their job without it. There are a lot of similarities in how we feel about, and use, email; just about everyone dislikes junk mail, for example. But there are differences, too, and many of these relate to our personality, and in particular to our MBTI Type preferences.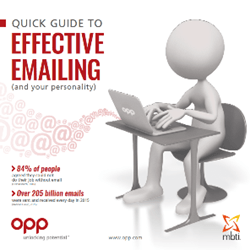 We've produced an in-depth report on the email and MBTI Type research study, and a webcast describing the results, but reports and webcasts aren't ideal if you need a quick reminder of what to think about when you are putting together an email for someone who has different Type preferences from you. So we've put together a new Quick Guide to Effective Emailing (and your personality) to view online, or for MBTI qualified practitioners to download as a free customisable pdf. It contains general advice and tips for using email, and reducing email stress, as well as specific advice for people of each Type. For example, if you wanted to communicate with me, it would be a good idea to make sure that your email has a clear point, or I might be tempted to ignore it – and to let me know if (and why) you need a quick response (I have preferences for INTP). If I wanted to email any of my Nurturer colleagues (ESFJ or ENFJ), it would be important for me to remember to put a friendly greeting at the start and a pleasant sign-off at the end.

We've also added content that should be useful for anyone who uses email, including people who don't know their Type.

Here are our top tips:
Send fewer emails; the more you send, the more you'll receive and that's stressful, for you and everyone else.
Respond quickly, within 48 hours if possible.
Be clear and concise, always include a subject line and check before sending – mistakes irritate many people.
Take care with chains and copying. Think who should be in the 'to' line and who in the 'cc' line, and avoid making people search through long email chains.
Stick to the working day; if you can, avoid sending and checking work-related emails at other times. This might be difficult, but try and have at least some time email-free, to reduce your stress levels.
Be polite; your recipients will feel more positively about you and see you as more competent.
Think about your audience. Given your own MBTI type, you probably have a particular style of communication; vary your approach to match the needs of your audience.
If you are a Type practitioner, you can also use the quick guide to engage individuals or teams as part of development sessions. For example, we have produced a version of our Type and Communication exercise, adapted to use email, that you can download. Alternatively, carry out an exercise around Core Characters (for larger groups) or Extraversion-Introversion (smaller groups), asking each group to discuss and agree on the best and worst things about email – and then comparing answers. Build on the points you discuss to develop a Type-informed email etiquette for a team, department or organisation. This may be particularly useful for virtual teams.
The Quick Guide to Effective Emailing (and your personality) follows on from the Quick Guide to Personality and Workspace and the Quick Guide to Everyday Stress. If you have any suggestions for other areas where a quick guide might be useful, do let us know by leaving a comment below!