You can choose your friends but can you choose your colleagues too?
Posted 27 January 2012 by
opp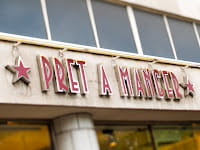 This week the London Evening Standard offered an insight into Pret a Manger's recruitment practice, revealing its rather interesting approach to taking on new recruits.
Once applicants have completed an online application form, telephone interview and subsequent meeting with bosses at the company's recruitment centre, they face the prospect of being judged by existing staff during an on-the-job 'graduation day'.
The day involves applicants working alongside current team members who rate their performance against a set of pre-defined behaviours. Existing employees provide feedback on the candidates which is given to bosses for use within the decision making process.
This fairly novel approach raises some interesting questions. Should more businesses be inviting employees to input on candidates? After all, existing employees have the in-depth knowledge on what it's like to work within the business and so understand the skills new recruits would need.
But on the other hand, aren't there risks involved with inviting the views of team members who may have their own agendas for giving (or not giving) good feedback about a person?
The plus points of the Pret approach are that current employees are likely to feel more engaged, trusted and valued if they can be involved in this way.
Another positive is that in a situation like this, research shows that people are more likely to lean towards someone with complementary skills to their own. This is because they are unlikely to select someone they see as direct competition. As a result, this can actually help build a well balanced team with a multitude of skills.
It's also worth noting that there can be few better performance indicators (particularly in a frontline facing company like Pret's), than seeing someone actually do the role that would become their everyday job.
Of course there are potential pitfalls too. Employees may inadvertently create cliques by giving favour to others with cultural similarities. They may also give preference to people that they like, regardless of how competent they are at actually doing the job.
That said, Pret ensures team feedback is considered as just one element of the recruitment process, allowing it to form part of a bigger picture of the candidate.
Overall, there is definitely something to be said for their approach. Whilst it wouldn't be fair or objective to give an undue amount of weight to employee's feedback, it might just provide an additional layer of insight which would not otherwise come from a 'traditional' interview or assessment.