TKI Profile and Interpretive Report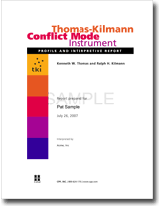 TKI™ Profile and Interpretive Report
Develop conflict-handling strategies
This Profile and Interpretive Report for the Thomas-Kilmann Conflict Mode Instrument™ presents TKI results in an easy-to-understand format.Based on the respondent's particular approach to conflict, the report offers specific suggestions to help them understand the pros and cons of each of the TKI conflict-handling modes, with suggestions for alternative approaches that will help them achieve more positive outcomes from workplace conflict. The report looks in particular at the individual's 'default' approaches to conflict situations, and makes them aware of where this approach might be more or less useful. It concludes with stimulating questions for ongoing reflection and action planning.
The TKI Profile and Interpretive Report contains
Personalised interpretation of TKI results
Appealing graphics and explanations of conflict behaviours in five easy-to-understand TKI modes
Deeper analysis of the highest-scoring conflict mode
Questions for reflection for the respondent
When to use the TKI Profile and Interpretive Report
Conflict management
Effective decision-making
Interpersonal skills development
Influencing and negotiating skills development
Team development
Line manager coaching
Executive coaching
This report can be ordered in various languages through OPPassessment.
New to OPPassessment? Find out how to register.