MBTI Conflict Style Report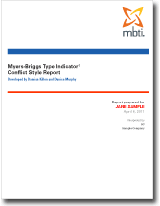 Available in (click for sample)
OP0211
MBTI® Conflict Style Report
Developing effective conflict management methods
This MBTI Report considers how conflict is a natural part of everyone's working and personal life. Though it often appears to be triggered by a simple, straightforward issue, conflict often stems from some core element of trust, beliefs, authority or passion being challenged. This can lead to damaging conflict situations that waste time and effort in the workplace.
The MBTI Conflict Style Report can improve conflict-management effectiveness with practical tips and advice. Recognise how Myers-Briggs types influence people's approach to conflict and help clients achieve better conflict outcomes.
The MBTI Conflict Style Report contains
A summary of participants' Myers-Briggs type and conflict style
Understanding others in conflict
The conflict management model and developing your conflict management style
Tips for dealing with other conflict styles
When to use the MBTI Conflict Style Report
Conflict management
Improving team performance
Leadership development
Effective management
Coaching
To get some ideas on how to use this report, including free pre-planned workshops and activities, please see the Getting the most out of the Personal Impact Report page.
Accessing the MBTI Conflict Style Report
The MBTI Conflict Style Report is based on MBTI Step I results and can be generated from either the MBTI Step I or Step II questionnaire. Using the MBTI Step II questionnaire enables a user to start their MBTI Development Journey by exploring Step I preferences, and continue to Step II without the need to complete a further questionnaire.
If a respondent's best-fit type differs from their reported type, a new Best Fit Version of this report can be generated at no extra cost. 
This report can be ordered in English through OPPassessment by qualified MBTI practitioners.
New to OPPassessment? Find out how to register.