MBTI Team Report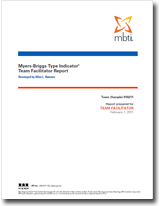 Available in (click for sample)
OP0132
MBTI® Team Report
Using Type to improve team performance
Help teams to collaborate more effectively by exploring the impact of Type on how they function as a team, especially in problem-solving, communication and conflict situations. A facilitator report with practical tips is also included.
The MBTI Team Report explores a team's functioning through the lens of Type at both the team and the individual level. It's a personalised team report, which means that everybody in the team gets tailored action points for improved teamwork. This report is also available as a bundle with the MBTI app.
What you get from the MBTI Team Report:
Team evaluation: team Type, team strengths and team blind spots/development areas
Individual evaluation: the strengths and potential blind spots of individuals in relation to the team
Advice for improving problem-solving, communication and conflict management
Impact of organizational culture and leadership on team performance
Facilitator report with tips for putting learning into practice
Benefits for practitioners:
Plan team sessions with confidence – you have full information about what to explore in a session. No gaps, no guesswork
Make sessions come to life – the report identifies development areas that are specific to each team, leading to tailored training which resonates more powerfully
Deliver team training that lasts – the report provides action plans for the team and for individuals to take back to work and put learning into practice
Looking for further insight into how to use the MBTI Team Report for team training events? See our How to deliver MBTI® team events workshop – it's a one-day course which helps you to make the most of the report. 
How to generate an MBTI Team Report on OPPassessment:
Each team member needs to have established their Best-fit Type by taking the MBTI questionnaire and having a feedback session based around their MBTI IRO or Profile
Once you have everyone's Best-fit Type, you can order the MBTI Team Report. Please note that one Team Report must be purchased for each team member
A single report for one team member cannot be produced in isolation: if new team members need to be added to the report at a later stage, you need to generate and pay for a complete Team Report
Please note that the Facilitator Report is part of the package, and is not available to order separately