Reduce, reuse, recycle
Posted 01 August 2018 by
Stu Belcher, Product Manager at OPP
We have all grown up with the mantra "reduce, reuse, recycle" and most of us try to take small actions in our daily lives to reduce the impact of our consumption. Huge strides have been made in the last decade or so. People now think twice before taking a plastic carrier bag or non-reusable water bottle.
However, as we in the UK enjoy a summer heatwave, we are reminded that global average temperatures are set to rise by more than 2⁰C by the end of the century. This 2⁰C figure is considered the most the earth could tolerate without seeing catastrophic changes to food production, sea levels, fishing, wildlife, deserts and water reserves.
As the two companies of OPP in the UK and CPP in the US have merged, all staff globally have been encouraged to consider the type of company we want to be. Overwhelmingly, we have spoken of the need to be a force for good, which must go beyond the amazing impact our instruments such as the MBTI have on the world. To this end, we've started a number of initiatives. In May, OPP chose to support Parents and Children Together (PACT) as our annual charity partner. In June, we announced that we will be supporting a Social Mobility Business Partnership with a donation of MBTI reports. We have also been busy looking at how we might make our office greener and a better place to work.
In my role as Product Manager, I have been busy reviewing the impact of our business operations to see if we could implement changes within our products and supply chain. The first results of this review will be seen in the launch of a refreshed Group Feedback kit.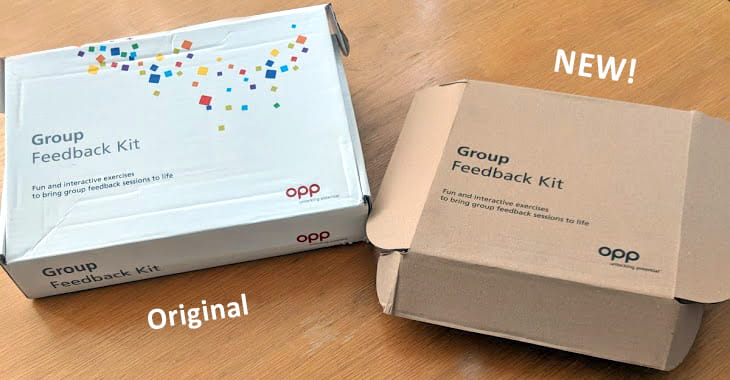 Many of you will be regular users of this popular product, which provides practitioners with a set of fun and interactive exercises to bring feedback sessions to life. Each kit provides all the materials necessary to run the exercises described for a group of four. As well as a sample timetable and description of the exercises, the kit provides the consumable materials required to deliver each exercise. As the product with the most packaging and items this seemed like a good candidate for us to reconsider with the mantra "reduce, reuse recycle" in mind.
The new offering is due to roll out in the coming weeks once stock of the previous version has sold through. The first thing customers will see is that the size of the box has reduced along with its contents. Items not considered essential to the exercises, such as marbles for group selection or a set of pens, have been removed from the kit. We also wanted to encourage users to re-use some of the consumable items, like modelling clay and counters and so these items will no longer be included. Many regular users will have built up a collection of these materials over years of using the previous version, and they can be purchased for a lower price than we are able to supply them. Each component now has less packaging, with non-reusable plastic bags removed completely. To make the box easier to recycle, it is now made of a plain cardboard, without a plastic handle.
As we have reduced the products' contents, we are pleased to be able to reduce the price from £106.50 to £90, passing on all savings to our customers. We understand that this will require a slight change of behaviour, as practitioners must now supply their own counters and modelling clay. We believe this is a justifiable change and hope you do too.
This is just the first change in our striving to make our business a force for good but is a symbol of our long-term commitment; the path is not always easy, and we very much appreciate your ideas and feedback on how we can do better.