FIRO icebreaker exercise
Posted 20 January 2016 by
Betsy Kendall - COO at OPP
The FIRO tool is one of my favourite personality assessments and makes a killer combination with the MBTI framework for coaching or team development.
Alice King and I will be running a webcast on using FIRO insights (alongside the MBTI assessment) in coaching on 25 February, check it out and book for free via the Knowledge Centre.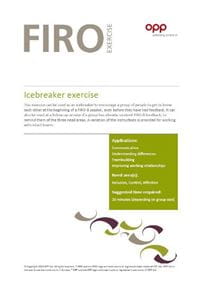 In the meantime, here is a nice icebreaker exercise to use with groups or teams when introducing or revisiting the FIRO tool. The pdf includes everything you need to get started – just remember to print the cards on a colour printer.

Applications: Communication Understanding differences Teambuilding Improving working relationships

Download the exercise
View more practitioner resources
Learn about the FIRO tool



If you've got an exercise you'd like to share then let us know by leaving a comment below.