What's your MBTI Type Valentine's sentiment
Posted 12 February 2016 by
Aidan Millar - Human Development Consultant for Psychometrics Canada and Betsy Kendall - COO at OPP
What are you hoping for on Valentine's Day?

Ahead of Valentine's Day we've been discussing how different personalities may think and feel about this annual celebration of love. We took some key characteristics of each of the 16 Type and imagined what would be their most common desire for Valentine's Day.
Money making scheme or delightful opportunity to be showered with love and affection?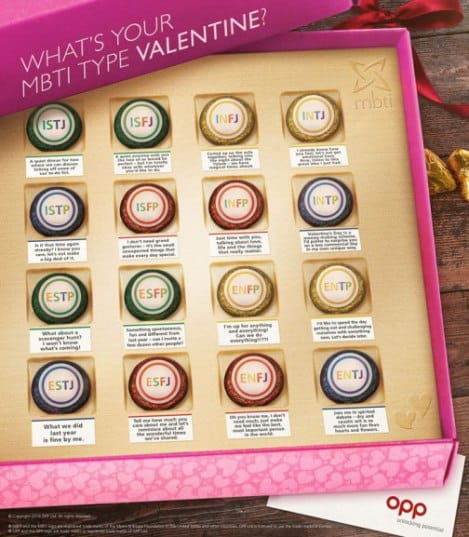 Made in collaboration with Aidan Millar at Psychometrics Canada.
Download your MBTI Type Valentine's 'chocolate' selection here.
Share your Type and your opinion on Valentine's Day by leaving a comment below.