Time to have some serious fun in L&D – part 3: getting sticky!
Posted 30 September 2014 by
Penny Moyle - CEO at OPP
I've talked in recent blog posts about ways that MBTI®-based L&D can be brought to life. So far, I've explored Pinterest resources and the different OPP type training aids.
The point of bringing more fun into MBTI development is to help create impact and make the learning memorable. In order for people to get lasting value from their MBTI experience, we need these concepts to 'stick'; to be something they take away from the training room and can come back to time and again. With this in mind, we've created Typies™.
The latest in our series of fun type tables features these 16 pictograms that capture the essence of each of the 16 types in a neat colour-coded image. Of course colour provides instant impact, but Typies also have depth; the colours have been chosen to systematically reinforce each type concept and the underlying type dynamics.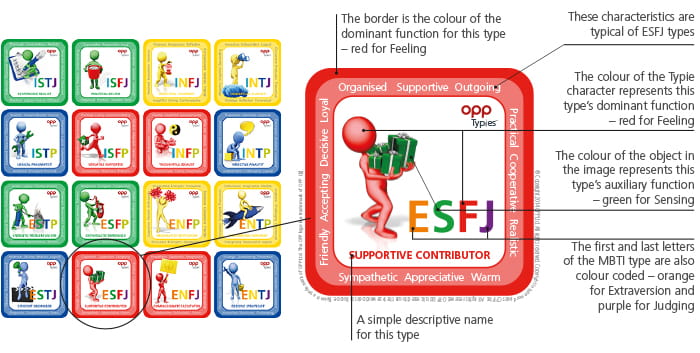 Typies are designed for you to download and share electronically, and to print on whatever you fancy. We've experimented with a few options – putting them on tablet and phone cases, mousemats, fridge magnets, T-shirts, coasters and mugs – and think they can be used to make fabulous giveaways for any MBTI event. We've also started thinking about how they can be incorporated into feedback and teambuilding activities. But we want the creativity to be two-way, so I encourage you to download the Typies and share your ideas with us on Facebook, Pinterest, Twitter and LinkedIn. And, of course, keep following this blog for the next post in our 'Serious fun in L&D' series.