Strong Profile and Interpretive Report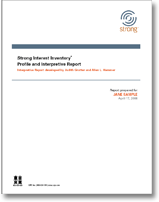 Available in (click for sample)
OP0159
Strong® Profile and Interpretive Report
Zero in on your client's top jobs
This report builds on the Strong Profile Report, included in the package, by applying key learning to create a richly textured road map for exploring and pursuing a rewarding life of work and leisure.
With a striking colour graphic design that makes the information accessible and easy to understand, this comprehensive career development report adds powerful detail to your clients' Strong Profile.
The Strong Profile and Interpretive Report contains
A copy of the

Strong Profile Report

Expanded definitions of the six General Occupational Themes, as well as additional career fields and leisure activities, and personal descriptors that characterise satisfied workers in various jobs
A list of the top ten occupations potentially most satisfying to your client, providing specific details on the typical work tasks associated with each job, and the knowledge, skills and abilities required for success
When to use the Strong Profile and Interpretive Report
Career development and action planning in professional contexts
Career guidance in an educational environment
Outplacement 
High school and college editions of this report are also available specifically designed for use in educational contexts.
This report can be ordered through OPPassessment by practitioners with Test User: Occupational, Ability or Level A qualifications.
New to OPPassessment? Find out how to register.