MBTI Decision-Making Style Report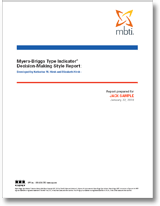 Available in (click for sample)
OP0179
MBTI® Decision-Making Style Report
Better decisions and effective contributions
The MBTI Decision-Making Style Report uses Myers-Briggs type preferences as a framework for understanding an individual's decision-making style. It helps individuals make better decisions and more impactful contributions.
This online report helps individuals become better decision makers by alerting them to their decision-making strengths, potential challenges, and areas for development. It explains how type dynamics impact their style and offers key questions to consider during the decision-making process to facilitate more comprehensive decisions.
The MBTI Decision-Making Style Report contains
Insights and suggestions to guide further coaching and development
What to consider when presented with a difficult decision
How to work with others for decision-making assistance
How individuals can flex their style to improve communication with others and enhance their decision-making
When to use the MBTI Decision-Making Style Report
Improve decision-making
Leadership development
Effective management
To get some ideas on how to use this report, including free pre-planned workshops and activities, please see the Getting the most out of the Personal Impact Report page.
Accessing the MBTI Decision-Making Style Report
The MBTI Decision-Making Style Report is based on MBTI Step I results and can be generated from either the MBTI Step I or Step II questionnaire. Using the MBTI Step II questionnaire enables a user to start their MBTI Development Journey by exploring Step I preferences, and continue to Step II without the need to complete a further questionnaire.
If a respondent's best-fit type differs from their reported type, a new Best Fit Version of this report can be generated at no extra cost.
This report can be ordered in English through OPPassessment by qualified MBTI practitioners.
New to OPPassessment? Find out how to register.