MBTI Stress Management Report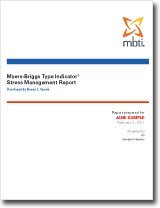 Available in (click for sample)
OP0216
MBTI® Stress Management Report
Recognising and minimising workplace stress
No matter what the context – in work or in everyday life – the presence of stress can either undermine individual performance or propel individual success, depending on how you react to it. This MBTI Report shows people how to recognise and handle workplace stress, and minimise its impact.
The MBTI Stress Management Report contains
A summary of the client's Myers-Briggs results
Their natural and stressed personality characteristics
How their stressed personality is triggered
Handling stress reactions and learning from them
How others can help minimise stress
When to use the MBTI Stress Management Report
Stress management
Improving teams
Leadership development
Effective management
Coaching
To get some ideas on how to use this report, including free pre-planned workshops and activities, please see the Getting the most out of the Personal Impact Report page.
Accessing the MBTI Stress Management Report
The MBTI Stress Management Report is based on MBTI Step I results and can be generated from either the MBTI Step I or Step II questionnaire. Using the MBTI Step II questionnaire enables a user to start their MBTI Development Journey by exploring Step I preferences, and continue to Step II without the need to complete a further questionnaire.
If a respondent's best-fit type differs from their reported type, a new Best Fit Version of this report can be generated at no extra cost.
This report can be ordered in English through OPPassessment by qualified MBTI practitioners.
New to OPPassessment? Find out how to register.