What's your MBTI Type garden?
Posted 25 May 2016 by
Betsy Kendall, COO and Head of Professional Services, OPP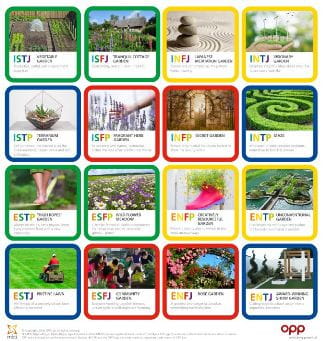 Garden lovers from around the world are gathering this week at the world's most prestigious flower and garden show – Chelsea Flower Show.

The theme of this year's show is 'Greening Grey Britain' #greeninggreybritain. Gardens such as 'Healthy gardens, healthy gardeners' by Coventry University and RHS 'Greening Grey Britain Garden for Health, Happiness and Horticulture' help highlight the many benefits of enjoying outdoor space.

But which kind of garden fits best with what satisfies each of the 16 different MBTI Types? Are you energised by creating beauty in unusual ways or do you get a warm glow of satisfaction from a pristine lawn? Our fun garden Type table is a light hearted way of starting a conversation about elements of the 16 MBTI Types. It also unashamedly aims to raise a gentle smile.

Download and share the entire Garden Type table your just your own MBTI garden Type.

Did you know there's more to fun Type tables than meets the eye? Read more about why we've created them and how you can use them as amusing reminders of just how different the 16 Types are.