What is your MBTI Type of Sport?
Posted 03 August 2016 by
Betsy Kendall, COO and Head of Professional Services, OPP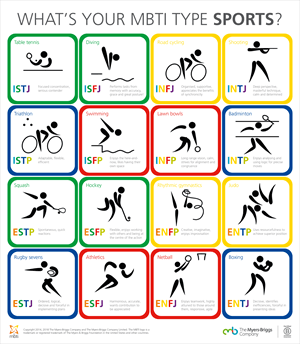 It's the Summer of Sport!
With the Tour de France, the Rio Olympics and the Paralympics still to come there is no avoiding sport this summer.

Just like the varying personality Types, with every sport comes skill, style and core strengths. We've been considering which aspects of some Olympic sports reflect core elements of each of the 16 MBTI Types. Is your Type spontaneous with quick reactions like a game of squash? Or is it agile and highly attuned to other people, like netball?

See which sport represents your MBTI Type in our sports Type table – remember this and OPP's other light hearted type tables aim to raise a smile. They work as conversation starters and fun reminders of differences between the Types.

Read about how aspects of Type dynamics are captured in each Type table.