Why every coach needs the MBTI
Posted 24 October 2013 by
Anita Crkalová, Managing Consultant, Coaching Systems (an OPP Alliance Partner in the Czech Republic)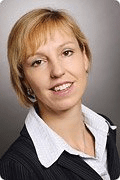 MBTI® type is a crucial tool in the coach's repertoire. Most misunderstandings and barriers to success tend to be caused by communication breakdowns and differences among people, so learning about our own personality type and that of our peers is vital in any context. But this is doubly so in coaching!
In general, coaching can be described as assisting another person's development, learning, and performance. It involves a particular form of 'accompanying' the coachee in (and sometimes out of) the workplace. Rather than teaching, coaching is about enabling the other person to learn for themselves.
In professional coaching, it goes without saying that the coach needs to be an excellent communicator. They must be in tune with the people they are dealing with, inspiring them to be open to new points of view, and to keep up the diligent work that is required to make genuine performance improvements. But what separates the great from the good when it comes to impactful coaching?
Jungian personality types are a very powerful tool in the coaching process. The mark of an experienced, quality coach is that they can adapt their coaching approach to any type of person, based on a keen insight into what motivates different people, what stresses them, and which specific personal development avenues might be most productive to that person. These insights are at the heart of a fruitful coaching relationship.
For coaches aspiring to this relationship, there are a number of levels of expertise to master in applying MBTI personality type insights:


Level 1: the coach is generally familiar with the principles of type (and can therefore adopt a personalised approach, have respect for differences, etc), but has not studied their own MBTI personality type


Level 2: the coach knows their own personality type, understands their own type biases and makes allowances to 'balance out' their preferences during coaching


Level 3: the coach knows their type and the coachee's type, understands the influence of the respective types on interpersonal communication, and takes these detailed factors into account during coaching


Level 4: the coach guides the coachee in working on their non-preferred mental functions and orientations, using the principles of type dynamics.


These different levels all add layers of depth to a coach's practice. For the advanced coach, the key to successfully incorporating a type-based understanding of people is to consciously include opposite MBTI preferences, both in their work with their clients, and in their own personal development. A coach who lives and breathes type development is able to add an extra, unique dimension to an MBTI-inspired coaching session. They are equipped to foster deeper self-knowledge for a greater variety of people; and, most significantly, to spark new and innovative points of view in the coachee. This leads to substantial, positive and lasting change – and it's why every coach should consider using type to make themselves stand out from the crowd.
Anita (Anna) Crkalová has over 19 years' experience working as an executive coach and lecturer. Her work is based on using the various techniques of neurolinguistic programming (NLP), Jungian personality typology, mind mapping and Laban movement analysis. She is a coach accredited by the International NLP Trainers Association (Diploma NLP and Practitioner NLP), and works as Managing Consultant at Coaching Systems, based in Prague, Czech Republic.