Reporting back: what's going on with the movers and shakers in MBTI world!
Posted 24 July 2013 by
Betsy Kendall, COO and Head of Professional Services, OPP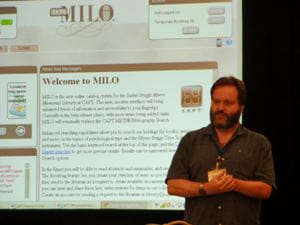 I just got back from THE Myers-Briggs conference to be seen at, run by the Association of Psychological Type International (APTi). Held every two years, the 2013 event took place in steamy Miami last week. With a theme of Putting Type into Action, there were sessions to suit all tastes... type and emotional intelligence, and a wide range of other topics, including how type affects the way we manage our finances, where I learned that my Introvert Intuitive style is to "buy the vision or do without", which definitely rings true! My colleague Ingrid Manning ran a highly engaging session on how to bring type dynamics to life for practitioners and their clients. She demonstrated ways of using the 'type trump' cards that OPP has developed as part of its Type Dynamics in Action workshop, which went down rather well.
With my INTJ preference, the main highlights of conference were the research-based sessions, including the full-day research symposium that kicked off the conference. At the symposium speakers discussed the criticisms of the MBTI tool that appear in the media from time to time, and how current and future research can answer these. Some criticism is ill-informed; for example, that there is little research on the MBTI instrument. In fact, there is a substantial body of research, and this was underlined by Logan Abbott from the Center for Applications of Psychological Type (CAPT), who introduced the new online cataloguing system for the Isabel Briggs Myers memorial library. The "MILO" platform will make searching for the huge number of books, articles and research papers on the MBTI tool very much easier and quicker.
Another criticism of the MBTI instrument can be that the type descriptions are all so positive that anyone could agree with any of the 16 profiles. There is clear evidence to refute this criticism, and recent research findings were presented, along with a whole range of criterion-related validity studies. Bob McPeek (also from CAPT) presented on the Implicit Association Test to examine how distinguishing implicit from explicit type has great potential for minimising mis-typing, and maximising self-understanding.
During the main conference, I presented a session along with Rich Thompson and Mike Morris, colleagues at CPP, about the MBTI Global Research Programme and the future of the MBTI assessment. At this session we outlined what has been achieved so far in this multi-year, multi-project programme of work. CPP is leading the research, and OPP and CPP's other distributors have collaborated on sample set-up and data collection. The research will result in the first truly global version of the MBTI instrument, with representative samples gathered from across the world. Three quite different methodologies have been tried out, to determine which are the best items to be included in the final version:
Classical test theory
Item Response Theory (IRT)
Latent Class Analysis.
While these three very different approaches have shown a considerable degree of agreement about which are the best items, Latent Class Analysis has been chosen as the model that will underlie the revised form, because it is the model that best fits the categorical nature of type theory. This is exciting, because it looks possible that the new global version of the MBTI questionnaire will have the same items in every language, and that it will provide enhanced reliability in some countries.
I was very pleased with the turn-out and interest in a second paper I presented on research that OPP has recently carried out on the MBTI instrument and culture. Using the Cultural Orientations Framework (COF), we have collected data from close to 1,000 people, and our analyses thus far are showing that in this sample, MBTI type has a greater impact on cultural orientation than does country of residence. This underlines the use of the MBTI instrument in multi-cultural environments, where it can act as a bridge between cultures. This means that in terms of core cultural orientation, an ENFP is likely to have more in common with another ENFP from a different country than they do with, say, an ISTJ in their own culture.
I am being coached by a dear ENFJ colleague around my Feeling function, so I'll end by saying what I perhaps should have said that the start: that there was a great atmosphere at the conference, which was very inclusive and relaxed. The conference committee did a great job. I enjoyed reconnecting with many long-time friends in the type community, and made some new connections. The next big type conference is in Greenwich next May, when it's the UK's turn to host the European APT event. I hope to see you there!