The role of mediation in resolving conflicts
Posted 28 September 2012 by
opp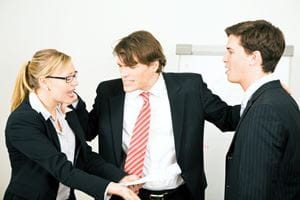 The UK government, and others across the globe, have recognised that the costs of dealing with entrenched disputes within businesses, between businesses and in society, using purely legal remedies, are simply too high. For some years now, their attention has been turning more and more towards mediation as a useful way of addressing this problem, because of the significant benefits it offers disputants.
In the UK, family mediation was the first to benefit from an enhanced status, and now all couples wanting to divorce are obliged to see a mediator for a Mediation Information and Assessment Meeting (MIAM) before proceeding with the most appropriate way of dealing with their relationship breakdown. Then attention was turned to civil and employment disputes, and the UK government have introduced what could be called 'introductory measures' whereby there is automatic referral to mediation for all small-claim civil litigation cases, as well as stronger encouragement for other cases. Judging from the language used by the government, mediation, in all its applications, will only grow in its usefulness to society and businesses.
So, why is mediation so good? Here are some of the key reasons:


It is private and confidential – not public as with the courts and tribunals


It is voluntary and consensual, with a win–win outcome


The mediator controls the process – very flexible with no prescribed rules to follow


The parties determine the outcome – they retain control


All issues can be included in one forum (legal, practical, psychological), depending on the skills of the mediator and if lawyers are present – its potentially holistic nature is powerful


It focuses on interests and needs – future–oriented, rather than getting bogged down in the usual blame game


Resolution can be quick – it is quick to set up and to undertake, usually in one day


It can be stress-busting and even therapeutic – partly owing to quick set-up and non-adversarial nature, and partly due to having a real forum to have your say


Modest costs – in comparison with the often much higher management time and/or legal costs with long-drawn-out traditional remedies


The possibility of saving strained relationships, or even restoring them – compared to litigation, where this is rare


Good success rate – 75–90% depending on the type of case (civil cases at lower end, workplace cases at the higher end).


There are all sorts of basic causes of conflict, such as lack of information, differing values, relationship issues, structural issues, resource issues and similar. But it is what people do with these various 'issues' that can give rise to the need for mediation. Those with a combative style often cause a mediator to be called in to rescue a situation. But so are those at the opposite end of the scale, who have an avoiding style: such an individual can become like a pressure cooker, with the steam building up in them before they are eventually 'forced' into fight or flight mode.
We have found that the TKI conflict mode instrument is a great tool to help analyse what 'styles' people have for dealing with conflict, and it can be used in a mediation to help people realise how they got into their situation, as well as to understand how to create a better way of relating for the future. The MBTI instrument is another excellent tool to help disputants understand how people are 'wired' differently, and that these resulting different approaches to life and working styles can be a source of conflict, but also a way of enriching a team, if understood and used to good effect. The MBTI framework also greatly helps a mediator to 'angle' the mediation proceedings to best effect, and to ask pertinent questions more effectively to help the 'warring' parties to make progress faster.
These tools can be used to good effect in any type of mediation, notably for interpersonal disputes. There can be resistance to their use in non-personal business contractual type mediations. However, a mediator well versed in the use of these tools might still be able to assess the parties' 'types' simply by observation and hearing how they answer certain key innocuous questions during the proceedings. Cognitive-behavioural and Transactional Analysis skills are also of immense help, and can be deployed seamlessly to help shift issues at mediation, where the mediator is trained in these (not part of ordinary mediation training).
Where all these psychometric and psychological tools really come into their own is for interpersonal disputes, where an ongoing relationship is needed and a genuinely sustainable outcome is required. They help the mediator go beyond what is possible in a typical mediation, especially where the issues at stake are deep seated. In this regard, the FIRO tool, and other psychometric instruments that assess values, personality traits and 'derailing' behaviours, can be used to good effect too, as part of a post-mediation coaching programme, notably for team situations and for more senior people.
And, of course, these tools can be used to help prevent destructive conflict occurring in the first place!
Julian Evans is an associate consultant for the Mediation Service team at Morgan Cole Services Limited, a wholly owned subsidiary of Morgan Cole LLP, a major commercial law firm based in Wales and the south of England. He is one of the UK's leading mediators, with 21 years' experience, and is recognised by ACAS, the Institute of Directors, Henley Business School, the Chartered Institute of Arbitrators and CEDR (Europe's leading and largest mediation body for commercial/legal mediations). He is also an executive coach, trained to use a wide range of psychometric instruments.