People development solutions
People development solutions
Driving better business results through building people capability
As your learning and development provider we make the strategic vision for your business a reality using experiential assessment and development programmes.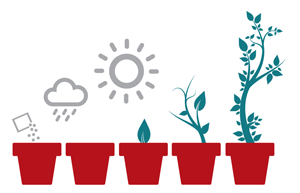 Our consultants partner with your organisation to make sure your people are perfectly poised to tackle change and lead you into the future. By shaping and nurturing talent, you can meet your unique challenges from a position of strength.
The Myers-Briggs Company's business coaching and development programmes are not 'out of the box'. Instead we partner with our clients to make sure the solution we design fits their organisation perfectly.

Defining success – We start by gaining a realistic understanding of what people skills you need to achieve your strategic objectives. We consult with you to assess your development aims, how they fit with other programmes and strategies you have in place, and the key milestones and challenges that will be impacted.

Evaluating people – We design a targeted and rigorous process to evaluate and develop the potential of your people, helping individuals to reflect on their strengths and blind spots, creating motivation, engagement and commitment to change.

Growing capability – We work with your people 'in the moment', raising self-awareness and building commitment to ambitious goals. Drawing from expertise in business psychology, our wide range of approaches have been proven to bring about real and sustainable change in peoples' attitudes, behaviours and performance at work.
People are an organisation's biggest asset. Our interventions draw out authentic workplace behaviours, uncovering individual strengths and development areas and going beneath the surface of the issues individuals face.
We evaluate and act on the results of our intervention, equipping you with the hard data that helps track the return on your investment.
Using in-house instruments and other psychological tools, The Myers-Briggs Company consultants take a detailed approach to bring about permanent change rather than apply quick fixes. Our development programmes typically include the following:
| | |
| --- | --- |
| | Leadership development programme to improve people skills and drive change. Our development work with The Myers-Briggs Company has helped managers to realise where their own faults are, and to help them correct them. It has become a blueprint for how we manage people in the future. |
| British Library | A development programme to stretch and test participants' current skills by exposing them to leadership challenges faced at senior levels in the organisation. It has promoted an awareness of leadership style and a greater focus on the importance of these behaviours. |
| NHS North West | A flexible and adaptable approach to leadership development. Rather than focusing on a defined future role it was necessary to consider the development offer on a much more individual basis, The Myers-Briggs Company undertook this with great skill and sensitivity, both in the design and the delivery of the programme. |