Step II at work
Step II at work
OPP case study – see how Macmillan Cancer Support used the MBTI Step II instrument for team development
Macmillan Cancer Support approached OPP to design and deliver a development programme for a team undergoing change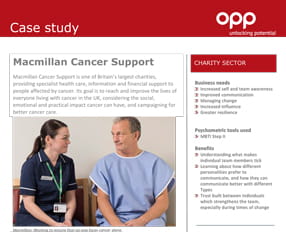 Last year, OPP completed a development programme with a Macmillan Cancer Support team to help them through a period of change in the organisation. the changes meant that the team was going to feel the impact of new structures, new systems and new ways of working.
This led to our consultants developing a Step II-based programme to equip the Macmillan team with the right tools to manage these changes.
Read the case study to see how the MBTI Step II framework helped the Macmillan team to:
Improve communication with each other and with other teams
Build their resilience
Identify their strengths and blind spots
Read other case studies to find out more about our psychometric assessments in action.