CPI 260 Coaching Report for Leaders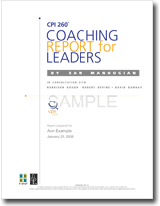 Available in (click for sample)
OP0011
CPI 260® Coaching Report for Leaders
Insights for successful leadership development
The CPI 260 Coaching Report for Leaders provides comprehensive information about a leader's strengths and development needs in 18 leadership competencies, and provides advice on planning for the next steps. The report is fully narrative, with no scores, and can be given to the coachee to help them with their ongoing development. It is designed to help the respondent understand their preferences, attitudes and behaviours in key areas of management and leadership and, more specifically, in comparison with other successful individuals.
The CPI 260 Coaching Report for Leaders contains
A Leadership Characteristics report, which organises the 18 leadership competencies into the following core performance areas: self-management; organisational capabilities; team-building and teamwork; problem-solving; and sustaining the vision – each competency is rated as either a strength or development area for the individual leader
A Snapshot page, offering a quick overview of results
A Next Steps section, which offers advice on planning next steps in leadership development and interactive sections for the leader to carry out their action planning 
When to use the CPI 260 Coaching Report for Leaders Report
Assessment for potential
Leadership development
Executive coaching
This report can be ordered by qualified CPI 260 practitioners through OPPassessment. New to OPPassessment? Find out how to register.