Remote and hybrid working: A research report from The Myers-Briggs Company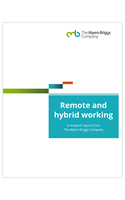 With offices re-opening, many workers who have been working remotely now have the option of going back to the workplace. Some organizations are encouraging this. But is it in everybody's best interests?
This research explores what people feel about remote, hybrid, and in-office working. By understanding people, their personal situations, and the impact of personality type on their remote/hybrid preferences, organizations have a rich set of data to create a hybrid strategy that works.
Download Remote and hybrid working: A research report to learn:
Actual v. preferred amounts of time working remotely
Views about remote and non-remote working
Impact of personality type on preferred place of work
Factors affecting employees' intention to leave their job
Recommendations for successful hybrid strategies