Entrepreneurial Types
Entrepreneurial Types
What makes a successful entrepreneur? OPP researches links between MBTI Type and entrepreneurship
The latest Type-related research project from OPP explores the personalities of entrepreneurs. Complete our short survey to take part and contribute to our findings
Our latest research investigates the link between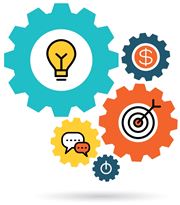 psychological Type and entrepreneurship. Given that many of our clients work as independent practitioners, and that self employment is on the increase in the UK (source: Office of National Statistics, September 2016 release, section 4), this is an appropriate area to explore. There are implications for leaders and leadership development too.
What do you need to be a successful entrepreneur?
We are hoping to use the results to develop guidelines for anyone who is self-employed and runs their own business, or is considering doing so – for example, what are the likely strengths and possible blind spots for each personality Type when acting as an entrepreneur?
We'll also investigate what makes an organisation entrepreneurial, and how this and individual personality relate to job satisfaction and resilience.
Complete the latest MBTI Type survey
To carry out the research, we need your help. We'd like you and anyone you know to complete the MBTI Type and entrepreneurs survey. You don't have to be an entrepreneur to take part – we would like a wide range of people to contribute. The survey, which is global, is open until the end of November and we expect to publish our findings early in 2017.
OPP and psychological research
Operating in the field of business psychology, OPP is committed to an ongoing research programme. It is through this research that we can demonstrate the evidence base behind the use of psychometric instruments such as the MBTI assessment. In the past we've looked at the return on investment of MBTI programmes, and at everyday workplace issues such as the way different Types use email, and how our Types fit with our working environment.