OPP consultants - medical technology and higher education
OPP consultants out and about - medical technology
The medical technology, higher education and global technology sectors feel the benefits of MBTI training
This week our consultants take the MBTI framework to teams in different technology sectors, and a group of university students
Last week, one of our consultants travelled to Dublin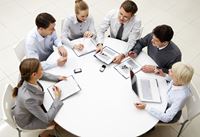 to deliver an MBTI-based team workshop for a returning client in the medical technology sector. The workshop's focus was to help team members understand the team dynamic and how it affects the way they work with stakeholders. They articulated what 'going the extra mile' means for them, and looked at how to change behaviour and delivery to improve performance, increase their influence and grow their business area.
Higher education is on the agenda when our consultants deliver an MBTI-based workshop for a group of university students as part of their engineering qualification. The students' course combines study with work placements, and the MBTI framework is used as a tool for personal and team development. In particular, this programme helps students to make the most of their work placement by looking at self awareness, workplace integration and the benefits of team diversity. It has been part of this course for several years
Elsewhere this week, our consultants also use the MBTI framework in an ongoing piece of work with a team of leaders in the field of global technology. Having received individual MBTI feedback sessions, the team are continuing their development experience with the first of two workshops. It focuses on understanding themselves and their behaviours better, and understanding the team dynamic and its implications.
Find out more about the work of OPP's consultants here.