TKI poster now available
TKI poster now available
Training resource for the world's best-selling conflict management tool
The Thomas-Kilmann Conflict Mode Instrument (TKI) identifies and measures five modes, or styles, of conflict.
The modes – Competing, Collaborating, Compromising, Accommodating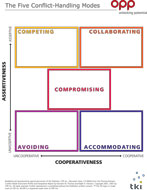 and Avoiding – are mapped against Assertiveness and Cooperativeness.
The poster presents this information in a very clear, straightforward way – ideal for TKI training sessions that equip clients with better conflict-management skills.
See the poster in the OPP shop, and find out more about the TKI instrument here.
For a more in-depth take on conflict, include videos on how/how not to deal with conflict, see Understanding the science of conflict by Betsy Kendall on the OPP blog this week.