OPP consultants out and about - media and construction
OPP consultants out and about: media and construction
Coaching sessions out in the field, and reflections on unusual experiences
This week, our consultants are delivering one-to-one developmental coaching sessions.
The sessions are part of ongoing projects with two very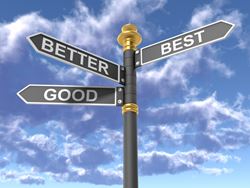 different clients – one is a multinational online media company, and the other is one of the biggest construction companies in Europe.
Business as usual, then – but for some of our consultants, business as usual has included nightclubs and motorbikes...
Daytime clubbing
At a recent team development event in Brussels, our consultants delivered training in a venue which, by night, was a top city nightclub. It proved very successful. The bar area worked well for an idea-generation exercise, with participants standing round the bar area to discuss ideas, and the less formal atmosphere inspired a more open, creative mindset for participants.
In the fast lane
When a client has to change the venue at the last minute, how do you get a consultant to the session on time in rush hour? Book a limousine – on two wheels! This is what a client did recently when a location change made it impossible for our consultant to get to the new training venue on time. After a quick brainstorm for options, the client arranged for a 'limousine' motorbike to pick our consultant up and whisk her to their new venue in the nick of time! Not quite Red Bull Xfighters, but still more of a thrill than the 17.30 to Paddington.
Like all trainers and facilitators, our consultancy team often have to be creative and go the extra mile in order to deliver the quality events that our clients expect.
To find out more about OPP consultants, take a look at these pages.