More Type resources in Dutch
More Type resources in Dutch
New Dutch-language versions of popular Type resources are now available in the OPP shop.
Core Character cards/posters and the Pocket Problem Solver cards are the latest addition to the growing range of MBTI resources available in Dutch.
Core Character Poster – colourful reusable poster, ideal for exploring Type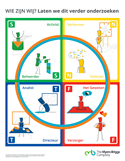 dynamics in a group or team session. Find out more here.
Core Character Cards – 19-card pack, complete with step-by-step instructions, which helps practitioners to explain Type dynamics in a clear, engaging way. Find out more here.
Pocket Problem Solver – pocket-sized tool to help individuals improve their decision-making and problem-solving skills. Available in packs of 10, find out more here.
Remember that Typies notebooks and Typies lens cloths were launched in Dutch in December too.